Real Life Homeschool…On Teaching Something Every Day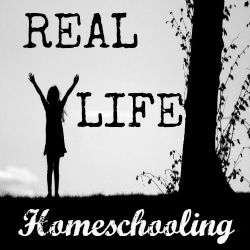 Real Life Homeschooling is a monthly blog hop with 20 other blogging mommas that I'll be participating in this summer. It's all about the non-traditional face of homeschooling today. What it looks like when it doesn't look like school-at-home. Which, obviously it doesn't around here since our crew goes to a Christian school full-time and home-learning has to be fun and relaxed to keep us all from getting burned out.
One question you may have is Why do we even bother, if our kids are already getting an excellent education? 
Well, because I don't care if my kids love school–but I want them to love learning. And I want them to see that learning, thinking, analyzing and comparing, and growing in knowledge and character should be part of their lives all the time–not just from September to June, not just from 8 to 3, and not just from Monday thru Friday.
So what does Real Life Homeschooling look like for us? 2 things, mainly.
1. It looks like nature study.
It looks like a purse full of field guides and pocket magnifying glasses and nature journals. It looks like turtles in the yard, and having frogs hopping loose in the kitchen, and the neighbors bringing us bird nests made of our horses' hair and our sheep wool and our baling twine…it looks like memberships to our local nature center and visiting farm parks and taking lots of pictures!
Here's a few of favorite homeschooling nature study posts…
Don't Just Settle for "Not Bad"
2. It looks like family read-aloud.
It looks like books, everywhere!
We read aloud together. Constantly. I keep a family read-aloud book with me all the time and we share it whenever we're all together. And now we turn our family reading into mini unit studies! How do we fit so much family reading time in? Here's a few ways…
Before church on Wednesdays. Sometimes we go straight from school/work to Wednesday night service and get their little early–fit in a few pages!
While everyone is eating. Especially lunch on the weekends and while everyone is eating dessert at the table (helps me avoid the sweets!).
While on farm business. Especially while we're getting gas, waiting to meet someone, or loading up the trailer.
While at the doctor/dentist/etc.
I just carry the book we're currently in with me wherever we go. The key to this strategy for learning is choosing good books!
I'll be sharing more that and all about reading as a family next week with a new series 5 Days of Summer Reading, including our favorite books and series, tips for choosing books, some simple unit study ideas, and more. (And you can visit my Books and Reading Pinterest board for more great resources–I'm always adding new finds!)