Real Life Homeschooling…Learning with Down Time
Real Life Homeschooling is a monthly blog hop with 20 other blogging mommas that I'm part of. It's all about the non-traditional face of homeschooling. What it looks like when it doesn't look like "school-at-home."
We took a short break over the winter months and during the busy holiday season, but you may remember that previously I posted about our love of all things Nature Study, and then some of the ways we packed our family camping trip with learning and even how we use just every day conversations while we're sitting in traffic as real life learning moments. Today I'd like to talk about learning with down time.
By down time I mean, Momma sits on the couch with a book and some coffee and pretends to be reading while secretly supervising the kiddos doing their own thing without her. I mean, no directions, no assignments, no suggestions, just…go play quietly!…and in our case, I mean alone. We believe in making a lot of time for the crew to play together, but when I talk about down time, I mean quiet, independent play where little minds have time to process things at their own speed.
This is how we spend a good portion of our holiday breaks. The kiddos will each get their toys or chosen activity and spread out across the living room playing their own quiet little imaginative games with their own new toys. I think this is really important because it lets them each move at their own speed. No one has to try to keep up with anyone else. No one has to compromise with anyone else. No one has to compete with anyone else.
But everyone is still enjoying the time together.
I think informal, individual down time serves a couple of important teaching functions in a home-learning environment.
1. Relax and Refresh. 
Everyone needs a break sometimes–both the Mommas doing the teaching and training and the munchkins doing the learning and growing. Down time–particularly quiet down time–let's everyone mentally and physically rest.
The Cowboy is very bright and a quick-on-his-feet thinker. He's also very physically active and tends to want to spend all his recreation time on the run in one game or another. Speedracer is a more deliberate thinker and not nearly as high energy. The constant striving to keep up or the constant need to compromise and slow down, can wear on both of them when they are together. Down time lets them each think and act at their own speed to get the maximum value from their activity.
2. Create and Develop.
Down time from formal learning activities gives the kiddos time to think creatively. To problem solve. To apply what they have been formally learning to everyday tasks. It gives them time to try and fail and try again, without the constraint of any significant consequences. Playing independently removes any peer-pressures from their desire to experiment and also removes the "easy answer" that having older siblings around can provide.
It also creates a valuable ability to entertain themselves.
3. Explore and Discover.
Finally, I find our version of down time to be very valuable as a way to observe our children in their own, self-chosen environment and learn to understand them, their interests, and their talents and skills better–which in turn help me to parent and teach each of them better!
Which toy, game, or activity do they gravitate to first?
What captures their interest when they are not led by someone else?
How long is their attention span on a self-chosen activity and how does that compare to assigned activities?
Do they mix medias (like playing with Legos and Matchbox cars) or maintain strict divides?
Do they use or apply their toys in unintended, extra-creative, or unexpected ways?
How often do they chose a strictly recreational activity (playing farm) compared to how often they chose an activity with an educational slant (reading or workbook activities)?
How hard is it for them to settle into independent play? How often do they play independently without requesting input from me or a sibling?
How complex are their creative activities? Is there notable growth in their skills? Who is creating by following provided directions or copying images and who is choosing to create without guidance or boundaries?
These are all insights I can gain from being the proverbial fly-on-the-wall during the children's down time.
God made each of our children unique and we can reach them best with our teaching and training and character molding by understanding their strengths and weaknesses and God-given passions and abilities. Real Life Homeschooling is not just about the facts we teach, it's about the relationships we cultivate and the way we use that relationship-building as the foundation to stretch our children's minds and hearts.
What does Real Life Homeschooling look like for your family? Link up your homeschooling posts below!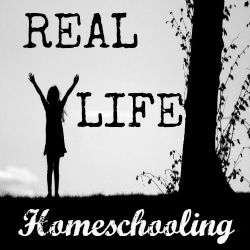 See where else I'm sharing this week…