Real Life Homeschooling…Learning by Adopting a Soldier
Real Life Homeschooling is about busy momma's sharing ideas for how you can be intentional about teaching at home, even if it doesn't look like traditional school-at-home. Last month I talked about how down time can play a key role in developing a supportive learning environment in your home. This month I'd like to talk about another activity our family participates in that has opened wide doors of learning for us…Adopting A Soldier.
I mentioned our recent "adoption" the other day while taking about care packages. This is the third time our family has taken on supporting our troops this way. Previously, in 2008-2010, the kiddos were much younger. They helped pick out snacks and colored pictures when asked and listened when I talked about it. But this time around they are much more involved already.
Adopting a Soldier means that you connect with an on-line group who has organized specifically to connect willing soldiers who are deployed with willing families back home. Groups differ, but in general you support "your solider" by sending regular snail mail, emails, and care packages while they are deployed. We are working with Adopt A US Soldier and have also worked with Adopt a Platoon before.
So how does this fit in with teaching at home? 
Well, it all depends on where you want to take it. Here's a list of topics that we've already started talking about since we were assigned "our soldier" a few weeks ago and found out he's in the Army and is stationed in Afghanistan…
HISTORY and GEOGRAPHY
What is the history of the formation and growth of the US Army? How are they organized? (You could study the history of each branch, or just where your soldier is serving.)
What are ranks and insignia? How are the branches different? (You could do an entire unit study just on the history of uniforms in the military!)
What military service is in our family background?
How did Operation Enduring Freedom start and how long will it go on?
Where is Afghanistan? Where is Bagram Air Base?
Where are the other bases that our soldier has told us he served at?
What kind of weapons does our soldier use and how are they different from the ones we are familiar with? What is the history behind weapons technology in the military? (Our boys eat this stuff up!)
LOCAL CULTURE 
What language do they speak there?
What religion do they practice? (Yeah, there's a thousand valuable discussions right there!)
What do they eat? What do they wear?
How do they treat schooling?
What is the weather and the ecosystem like? What kinds of animals do they have there?
What kind of farming do they do there? (Naturally we'd ask this!)
READING and GRAMMAR
Reading letters and emails.
Writing letters, emails, postcards, and notes.
Practicing handwriting and typing skills.
MATH
Calculating clock times and calendar times to compare our time of day to his.
Calculating lead time and costs of mailing letters and shipping packages.
Budgeting to provide care packages, grocery shopping, using coupons.
LIFE SKILLS
Organizing collections for items to send off.
Time management to commit to letter writing.
Learning about postal regulations and customs forms (seriously–these things are a real life skill!)
Practicing Christian encouragement, charity, and gratitude.
If you don't feel comfortable with the time commitment of adopting an individual, I would encourage you to check the websites mentioned above for single-effort campaigns. We've also helped with a Christmas Stocking collection one year and done a one-time Christmas card effort. There's lots of ways to be involved.
This part of Virginia is, of course, a major launching point for several branches of the service and the kiddos all have friends at school whose parents serve. We also have military service on both side of our family (both Mr. Fix-It and I had Army brats for mommas!) so this is a cause near and dear to our hearts. But I was also moved when we received an email from our new soldier the other day–and he thanked us. Here he is, stationed half way around the world, possibly getting shot at, facing suicide bombers and IEDs, away from his home and family with his wife expecting a child, and he's thanking us for writing some letters and sending some cookies.
Gratitude. That's the real lesson here.
What does Real Life Homeschooling look like for your family?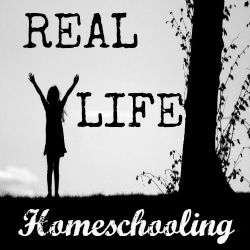 See where else I'm sharing this week…